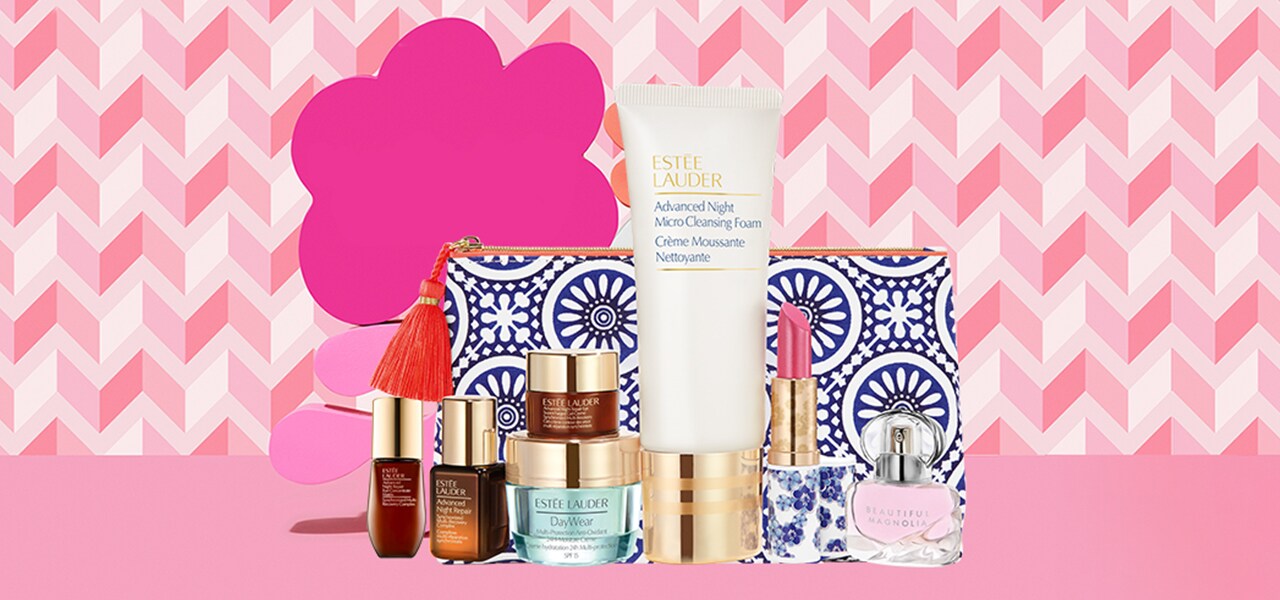 Beauty Secrets Days
A NEW EXCLUSIVE BEAUTY
SECRET EVERY DAY!
Enjoy a 20% discount on everything & 25% off
for subscribers*. PLUS a gift with 7 beauty
essentials, at purchase of €129*.
Discount excluding Newness, Sets, Last Chances, Mini Sizes,
Aerin, Re-Nutriv and Luxury Fragrance Collection. See details.
DISCOVER ESTÉE LAUDER SKINCARE
What Are the Best Skincare Products for a Daily Routine?
The order of skincare products is important for maximizing your product's benefits, ensuring better results over time.
The best skincare routine always starts with a fresh canvas, so cleansing the skin is the essential first step. Next, apply a toner to help balance the skin's pH and then follow that up with face serum. Finally, hydrate skin with a moisturizer. You can either apply SPF or make sure your foundation contains sun protection, then use eye cream and any targeted treatments that are specific to your skin type. For your evening routine, swap out sunscreen for an overnight serum, such as Estée Lauder Advanced Night Repair.
What Ingredients Are Must-Haves in Skincare Products and Why?
Some of the best skincare ingredients include Hyaluronic Acid, Vitamin C, Moringa, Algae and more. Hyaluronic Acid helps skin lock in moisture for maximum hydration and radiance. Vitamin C helps achieve a glowing, fresh complexion while Moringa helps firm for younger-looking skin. Algae is one of the most nutrient-rich substances available, with antioxidants that can hydrate, tone, and revitalize skin.
Why Should You Invest in Skincare for the Long-Term?
A good skincare routine is key to younger-looking skin today—and in the future. Our high-performance skincare delivers immediate and long-term results. Skincare products worth investing in include a gentle cleanser, a balancing toner or treatment lotion, anti-aging serum, protective SPF moisturizer, and exfoliator. If you're concerned about fine lines, wrinkles, or dry skin, an overnight serum like our #1 Advanced Night Repair Serum could be your best friend.
If looking your best is a priority, skincare is non-negotiable. It also helps create a flawless base for your makeup. Having a good skincare regimen in place can also help you enjoy makeup-free days without feeling self-conscious about concerns such as blemishes, dry skin, or excessive oil.
What Is Advanced Night Repair Serum?
Estée Lauder Advanced Night Repair is a top-selling face serum, with thousands of five-star reviews. This oil-free formula works with all skin types to reduce the look of multiple signs of aging like loss of firmness, dullness, dryness, and uneven skin tone.
Advanced Night Repair Serum's antioxidant rich formula contains hyaluronic acid, which naturally plumps skin to reduce the appearance of fine lines and wrinkles.
What to Gift Someone Who Loves Skincare?
The best skincare presents you can get from Estée Lauder are best-selling skincare sets perfect for trial and travel. If you want to give your friend or family member the gift of choosing for themselves, opt for an Estée Lauder egift card. Our #1 serum, Advanced Night Repair, is also often said to be a #1 gift.
Choosing the best skincare gifts for the beauty guru in your life can be a challenge. You can always book a 1-on-1 Virtual Consultation or take advantage of our Live Chat to get a custom recommendation.